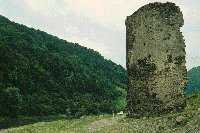 Roman ruin in the Red Tower Pass.
Further north, and finally into Transylvania, in the Red Tower Pass, we stopped for our first meal, bread, cheese, and the best tomatoes I've ever tasted, washed down with carbonated mineral water (the only bottled water available in Romania) and Coke. Then, we climbed over the ruins of a Roman fortification overlooking the River Olt, where the Romans used to make people pay for travelling through the mountain pass.

Next was a brief stop in the medieval city of Sibiu, the birthplace of Dana Moldovan, Genoa's manager of sustaining engineering. This is not your typical Romanian town. In fact, it's German. The original settlers came mainly from the Rhineland, and walking the streets, it's easy to believe you're somewhere near Nuremberg.