Chapter 14: Chobe Boat
On Friday, our last full day in Botswana, we did a very early-morning game drive and in the afternoon, went into Kasane for awhile to do a bit of shopping. By this time, we found that we would have a little time to do more shopping in Victoria Falls on our way out of Zimbabwe. A few of us tried to book one of the flights over the falls, but found they were all booked up.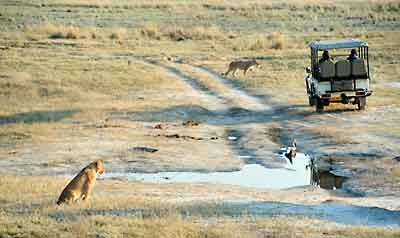 Concentrating fully on the prey, oblivious to our presence.
That evening, instead of a drive, we boarded a double-decker boat and cruised along the Chobe River. Once in awhile, we'd pull up along the banks for a close look at some animals, and got fairly close to some vervet monkeys, crocs, a flock of bright green birds called bee eaters, cape buffalo, the usual lineup. The sunset was again spectacular, but this time, we didn't have quite as good a background as we'd had at Moremi, we were cruising past a line of condos and private boats on the Namibia side of the river at the time, and it just wasn't as scenic.
PAGE: 1 | 2 | 3 | 4 | 5 | 6 | 7 | 8 | 9 | 10 | 11 | 12 | 13 | 14 | 15
All photos and text are ©2001, and may not be used without permission