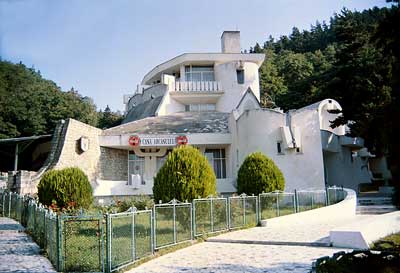 The Casa Arcasului hotel
We drove on into the town of Targu Neamt ("German Market Town"), and got a surprise: no fold-out sofa beds for us tonight, we were staying in a real hotel, the Casa Arcasului, the first actual hotel we'd stayed at since we'd been in Romania.
It was a nice enough place, nothing fancy, but livable...almost. The room that Radu and Lucy were in had mold on the walls, and Lucy caught a mild respiratory infection from breathing it. Indeed, the whole hotel seemed to have a problem with dampness; the towels in our room weren't quite dry.
The shower in our room was a tad tricky. Like most European showers, the shower head was not fixed to the wall, but rather a handheld nozzle. After a lifetime of fixed shower heads, I find these things a little hard to get used to. But there was also one more kink: the shower stall consisted of the entire bathroom. The walls and floor were tiled, and there was a drain in the floor. That makes for lots of room to move around (and the possibilities for group shower fun just boggle the mind...), but you have to be careful where you aim the shower head, or you wind up (as I did) soaking the towels, the toilet paper, everything.